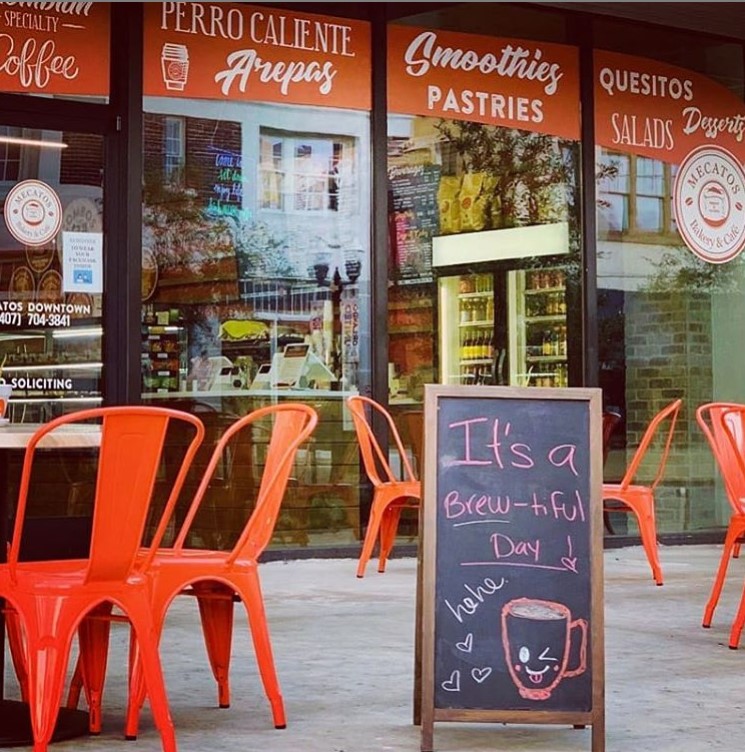 Mecatos Bakery and Cafe – A Taste of Colombia in Orlando
For those in search of an authentic Colombian bakery near Kirkman, look no further than Mecatos Bakery and Cafe Metrowest, located at 2900 S. Kirkman Rd., Orlando, FL 32811. This charming establishment brings the rich flavors and warm hospitality of Colombia right to your doorstep, providing a culinary adventure that is both delightful and satisfying.
Mecatos Bakery and Cafe prides itself on offering a wide array of traditional Colombian bakery items, each prepared with care and attention to detail. From savory snacks to sweet treats, there's something for everyone at this unique establishment. Following are some of the most popular items that are sold at Mecatos Bakery and Cafe Kirkman:
Pan de Bono
Experience the joy of Pan de Bono, a traditional Colombian cheese bread with a soft, chewy interior and a slightly crisp exterior. This gluten-free delight is perfect for breakfast or as an afternoon snack, especially when paired with a cup of authentic Colombian coffee.
Buñuelos
Indulge in Buñuelos, light and airy cheese fritters that provide a unique blend of flavors and textures. These little bites of heaven are a staple in Colombian cuisine and are perfect for satisfying your savory cravings.
Empanadas
Savor the flavors of Colombia with Mecatos' Empanadas, featuring a variety of fillings encased in a perfectly crisp pastry shell. Each bite transports you to the streets of Colombia, where empanadas are a beloved snack enjoyed by all.
Arepa
Discover the versatility of Arepa, a Colombian corn cake that can be enjoyed plain or stuffed with a variety of fillings. At Mecatos, the Arepas are made to perfection, providing a comforting and authentic Colombian experience.
Tequeños
Bite into the crispy exterior of Tequeños, cheese sticks wrapped in a thin layer of dough. These popular snacks offer a delightful contrast of textures and are perfect for on-the-go enjoyment.
Quesitos
Treat yourself to Quesitos, a sweet pastry made with puff pastry and filled with cream cheese. This Puerto Rican delight has found a home in Colombian bakeries and is a favorite among those with a sweet tooth.
Croissant
For a classic breakfast option, try the Croissant, a flaky and buttery pastry that is sure to satisfy. Mecatos offers a variety of croissants, including the popular Breakfast Croissant, filled with savory ingredients for a hearty start to your day.
Classic Latte
Wash it all down with a Classic Latte, made with rich Colombian coffee and steamed milk. This comforting beverage is a perfect complement to any of the bakery items on offer.
Tiramisu
Indulge in Tiramisu, a classic Italian dessert with a Colombian twist. At Mecatos, this beloved dessert is crafted with care, layering coffee-soaked ladyfingers with a rich and creamy mascarpone mixture.
Tres Leches
Don't miss out on Tres Leches, a traditional Latin American dessert consisting of a sponge cake soaked in three types of milk. This sweet and indulgent treat is a perfect way to end your meal on a high note.
Visit Mecatos Bakery and Cafe Today
Whether you're a longtime lover of Colombian cuisine or looking to try something new, Mecatos Bakery and Cafe near Kirkman is the place to be. With its wide variety of bakery items, friendly atmosphere, and authentic flavors, it's a culinary journey to Colombia that you won't want to miss. Visit us today and discover the delicious world of Colombian bakery at Mecatos!
Directions to Colombian Bakery Kirkman