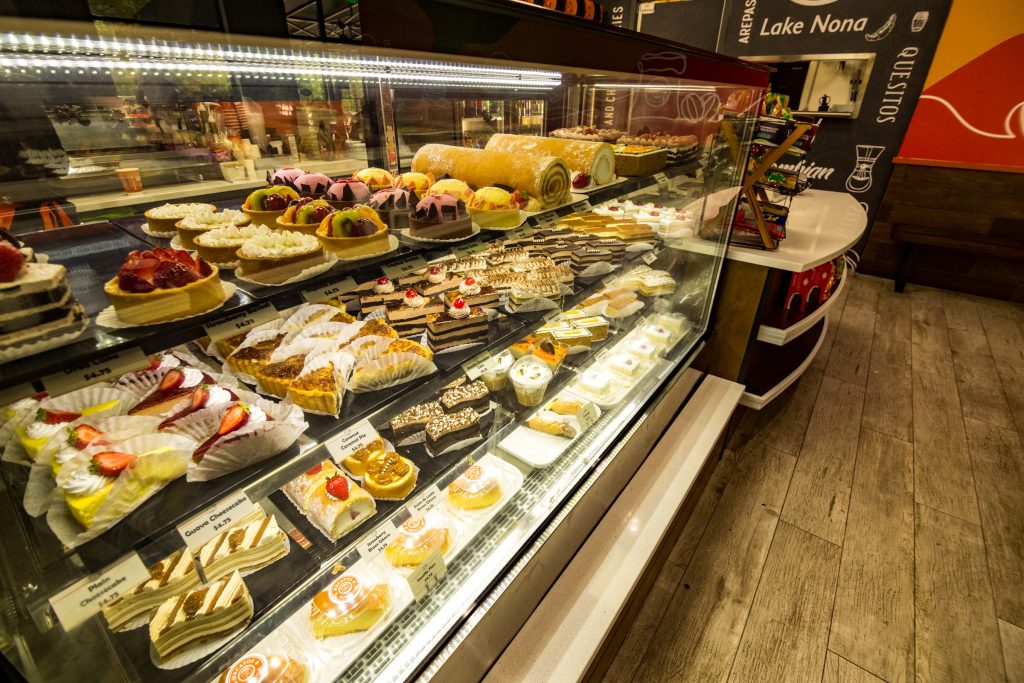 Mecatos Bakery and Cafe Lake Nona
Nestled in the heart of Lake Nona, Mecatos Bakery and Cafe offers a slice of Colombian culture at 10783 Narcoossee Rd Suite 125 – 129, Orlando, FL 32832. For those craving an authentic Colombian bakery experience, Mecatos stands out as a beacon of traditional flavors and warm hospitality in the Lake Nona area.
Mecatos Bakery and Cafe is more than just a place to eat; it's a gathering spot where the community comes to share stories and create memories. Whether you're starting your day with a hearty breakfast or taking a break with a sweet treat, the friendly staff and cozy ambiance make you feel right at home.
For those searching for an authentic Colombian bakery near Lake Nona, Mecatos Bakery and Cafe is a destination worth exploring. With its array of traditional baked goods and welcoming atmosphere, it's the perfect spot to enjoy the rich culinary traditions of Colombia right in the heart of Orlando. Come in and let the flavors of Mecatos transport you to the streets of Bogotá, one bite at a time.
A Taste of Colombia's Best
As you step into Mecatos Bakery and Cafe, you're greeted by the scent of fresh pastries and the sound of Colombian music, setting the stage for a culinary journey. Here's what makes Mecatos the must-visit Colombian bakery for both locals and visitors:
Pan de Bono
This delightful cheese bread is gluten-free, made with cassava starch and cheese, creating a warm, soft interior with a crispy crust. At Mecatos, you can indulge in a variety of different Pan de Bono items like Dulce De Leche Pan de Bono and Guava Pan de Bono.
Buñuelos
A festive favorite, these deep-fried dough balls are soft, cheesy, and utterly irresistible. They're the perfect companion to a cup of Colombian coffee.
Empanadas
No Colombian bakery is complete without empanadas. Mecatos offers these crispy, golden turnovers filled with savory beef or chicken, seasoned with Colombian spices.
Stuffed Arepas
Arepas, the versatile corn cakes, are a cornerstone of Colombian cuisine. Stuffed with fillings like cheese, beans, or pulled meat, they're a satisfying meal any time of day.
Tequeños
Originating from Venezuela but beloved in Colombia, these cheese sticks wrapped in a soft dough and fried are a crunchy, gooey delight.
Quesitos
These puff pastry treats filled with sweetened cheese are a delectable snack that pairs perfectly with a strong, aromatic coffee.
Breakfast Croissant
For a more European-inspired option, try the breakfast croissants. Flaky and buttery, these pastries can be filled with ham, cheese, or even dulce de leche.
Tres Leches
A dessert that truly embodies the indulgence of Colombian sweets, the tres leches cake at Mecatos is moist, creamy, and topped with a light meringue.
For all the delicacies offered at Mecatos Bakery and Cafe, check out the Full Menu. If you are ever in the Orlando area or plan to visit soon, don't forget to make some time to have a stop at Mecatos Bakery and Cafe.
Directions to Lake Nona Bakery