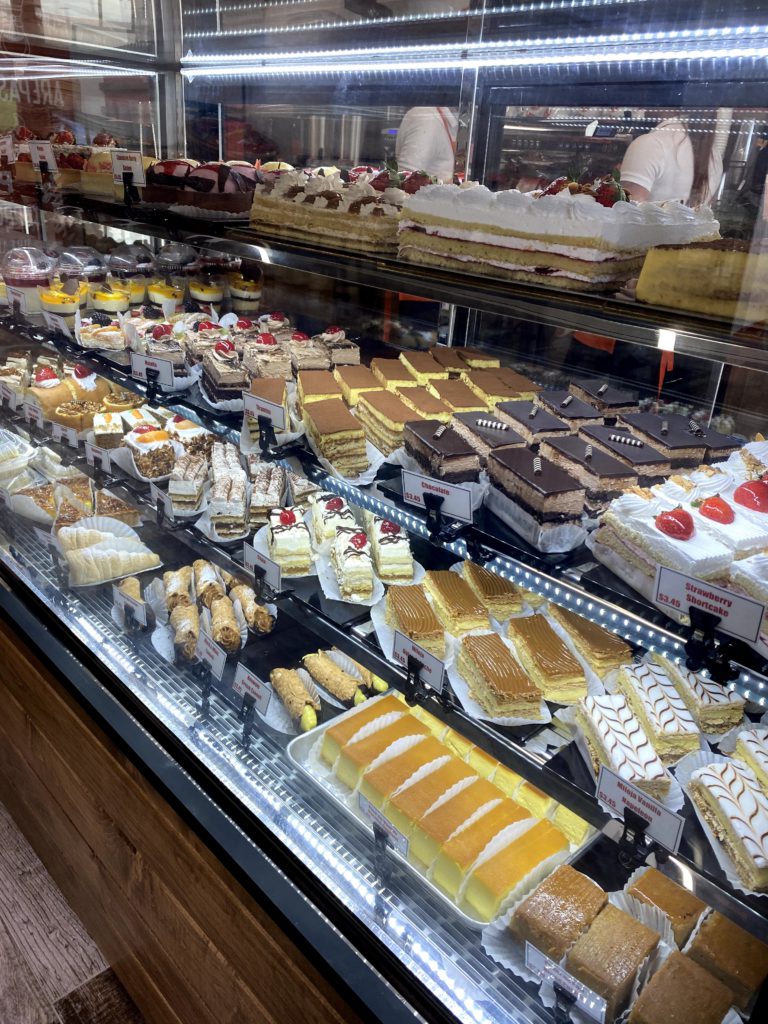 Mecatos Bakery and Cafe
In the heart of Downtown Orlando, along the bustling Orange Avenue, lies a sweet sanctuary for dessert lovers: Mecatos Bakery and Cafe. Renowned for its delectable Colombian pastries and aromatic coffee, Mecatos also offers a paradise of desserts that has become the talk of the town. If you're exploring the downtown area and crave something sweet, this is the place to be. If you are looking for Desserts near Orange Avenue Downtown Orlando, don't forget to try Mecatos. 
A Cake for Every Craving
At Mecatos, every slice of cake tells a story of tradition, creativity, and a dash of Colombian zest. Here's a taste of what you can expect:
Tiramisu: Layered with espresso-soaked ladyfingers and mascarpone, this Italian classic is given a unique Colombian twist that will tantalize your taste buds.
Guava Cheesecake: Combining the velvety texture of cheesecake with the tropical flavor of guava, this dessert is a sweet ode to Colombian fruits.
Oreo Cake: Indulge in the rich, chocolatey goodness of this cake with a crunchy Oreo base that provides the perfect texture contrast.
Tropical Fruit Basket: A light and refreshing choice, this cake is like a fruit basket in dessert form, bursting with the vibrant flavors of the tropics.
Mocha Cake: A must-try for coffee aficionados, where the robust flavors of coffee mingle with the sweetness of chocolate.
Nutella Cake: This cake is a love letter to Nutella lovers, with its rich hazelnut spread filling and smooth, chocolatey layers.
Dulce De Leche: A creamy caramel confection that's a staple in Latin American desserts, it's sweet, buttery, and utterly irresistible.
Tres Leches: A sponge cake soaked in three kinds of milk, this dessert is a moist masterpiece that's beloved across Latin America.
Cookies that Comfort the Soul
Mecatos isn't just about cakes. Their array of cookies will make any cookie connoisseur's heart skip a beat:
Cherry Cookies: Bite into these and enjoy the sweet surprise of cherry amidst the soft, buttery cookie.
Dulce De Leche Cookies: Sandwiched with a layer of caramel-like dulce de leche, these cookies are a gooey delight.
Chocolate Sprinkles Cookies: Perfect for those who love a bit of crunch with their chocolate, these cookies are as fun to eat as they are delicious.
Cookie Pack (Assorted Pack): Can't decide? Go for an assorted pack and sample a variety of flavors.
Smoothies that Swoon
Complement your dessert with a refreshing smoothie, each a blend of natural fruits and a perfect antidote to the Florida heat:
Passion Fruit Smoothie: Tart, sweet, and utterly refreshing, this smoothie is an exotic treat.
Blackberry Smoothie: Rich and full of antioxidants, the blackberry smoothie is both a healthy and delicious choice.
Naranjilla Smoothie: Discover the unique taste of naranjilla, a fruit known for its vibrant flavor and health benefits.
Guava Smoothie: Dive into the sweetness of guava, a tropical delight that pairs wonderfully with any dessert.
Mango Smoothie: Sip on the essence of ripe mangoes in this rich and creamy smoothie.
Strawberry Smoothie: A classic favorite, the strawberry smoothie at Mecatos is a blend of sweet, fresh berries and creamy goodness.
Mecatos Bakery and Cafe is a dessert lover's dream, but it's also a place where the community comes together. Whether you're looking for a spot to relax after a long day or a place to catch up with friends, the warm atmosphere and friendly staff at Mecatos make everyone feel at home.
When you find yourself near Orange Avenue with a sweet craving, let Mecatos Bakery and Cafe be your destination. With a diverse menu of cakes, cookies, and smoothies, it's a place where every sweet tooth can find satisfaction. So come down to Mecatos, where every dessert is a celebration of flavor and every visit is a chance to make sweet memories.
Directions to Downtown Dessert Shop